0001 Many home and private schoolers face a difficulty.
They want to teach their children and students about God and nature.
At the same time, they want their children and students to pass standardized tests constructed by government agencies that declare themselves to be "not religious".
Can a "not religious" sovereign establish a religion?
I like to call this apparent anomaly, "Big Government (il)Liberalism".
Other names also apply.
0002 Indeed, parents and teachers suspect that the standards… or perhaps, the norms… of these godless educational… er, indoctrinating agencies do not allow a type of thinking that has been common to Christian civilization since its inception. This type of thinking is both analytic and synthetic and is promulgated by the schoolmen (or "scholastics") of the so-called "Middle Ages".
As it turns out, scholastic debates concerning mind-independent and mind-dependent reality end up with a definition of sign-relation that incorporates modern science, while at the same time transcending it.
Of course, the mechanical philosophers of the 1600s don't know this. Modern scientists try to model observations and measurements of phenomena, using their highly specialized disciplinary languages. These models break down into two elements: cause and effect.
But, material and physical cause and effect cannot describe the causality inherent in sign relations.
0003 Surely, there are three elements to all existence.
Charles Peirce (1839-1914 AD) reads Francisco Suarez (1548-1617), a Baroque Scholastic, and comes up with the idea that there are three categories. Firstness has one element. Secondness (which includes mechanical science) has two elements. Thirdness has three. These three categories describe the causality inherent in a sign relation.
These three categories are also the foundation for the category-based nested form.
0004 So, what does this mean to parents and teachers?
None of the government agencies, who declare themselves to be "scientific", can define the sign as a triadic relation.
So, perhaps that is a good place to start.
0005 Semiotics encompasses the natural sciences, not the other way around.
Teaching your students the analytic and synthetic practices of the category-based nested form and semiotics will prepare them for technology, engineering and mathematics. Science typifies secondness. And, secondness stands between thirdness and firstness.
Say what?
Take a look at the following figure. Even without familiarity with Peirce's categories, the diagram tells a story concerning the relevance of triadic relations1 in regards to inquiry3 and science2. Understanding is not the same as scientific determination.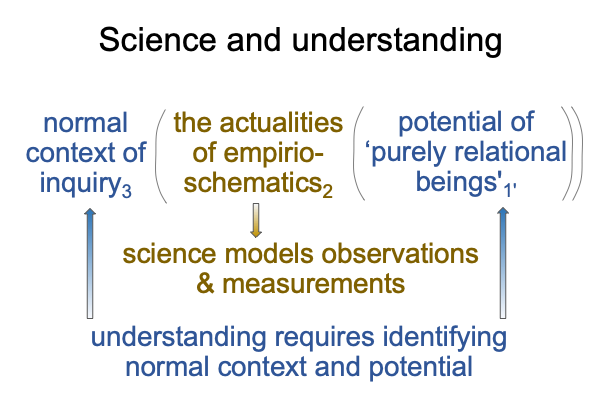 0006 What about the social sciences?
I wonder, can modern social scientists observe and measure social phenomena?
Can they model observations of religious behavior, when they describe themselves as "not religious"?
If everyone can be religious and if social scientists choose not to be religious in order to build models of their observations of those who are, then isn't there some sort of contradiction?
Or, is that the nature of specialization?
Speaking of specialization, sociologists do not study psychology. Psychologists do not study sociology. Plus, sociology and psychology ignore biology. All these disciplines are alchemically sealed within their own academic echo-chambers. They cannot hear one another.
Say what?
0007 The category-based nested form is a triadic relation, that is both synthetic and analytic. It is useful for reading texts. It is a powerful tool for picturing the purely relational characteristics of psychology, sociology, cognition and evolution.
A Course on How to Define the Word "Religion" offers a unique path into topics covered by the so-called "social sciences", without the blinders of BG(il)L.
Please consider this course when developing a curriculum for your children and your students.