0001 Twenty-two thousand years ago, during the maximum of the last ice age, people roamed (along with other large mammals) in a land that bridged modern-day Siberia and Alaska. Glaciers on the eastern (or American) side prevented humans from advancing further. Until they didn't.
Humans found a way around the blockade. By ten thousand years ago, humans occupy both American continents.
0002 The Siberian-Alaskan landmass displayed one type of ecology (some would call it a frozen wasteland). Yet, Paleolithic people migrating into the Americas adapted to a large variety of ecologies (including the tropics).
0003 How could this be so?
The authors conclude that humans are adapted to niche switching. Humans culturally adapt to novel ecological niches by operating as both generalists and specialists. Humans are behaviorally flexible because they can oscillate between established traditions (which the authors call, "culture") and problem-solving (which the authors call, "consciousness"). Consequently, humans can "switch" from one niche (such as ice-laden Beringia) to another niche (such as California's San Joachim Valley).
0004 But, I wonder, "Are not traditions ('cultures') specialist oriented? The specializations may not be wildly complicated, but meaningful enough. For example, someone who does well at running with a lance might fit in to the specialty of hunting large game. Someone who is good at identifying mushrooms may fit into the specialty of fungi forager. So, everyone can be a generalist problem-solver, but also work as a specialist too.
"Plus, everyone, whether lance-bearer or mushroom-gatherer, must learn their craft, and must innovate in the face of new challenges.
"So, the human gift of 'niche-switching' indicates that humans can find ways to make a living in every ecology. The recent territorial expansion of anatomically modern humans into the Americas serves as an outstanding example."
0005 Okay, then what is a "niche"?
The authors are modern biologists. When modern biologists hear the word, "niche", they think "ecological or environmental conditions". But, there is another technical definition for the word, "niche", that expands that narrow frame.
0006 What is a "niche"?
The Darwinian paradigm can be diagrammed by following A Primer on the Category-Based Nested Form (by Razie Mah, available at smashwords and other e-book venues).
Here is a picture.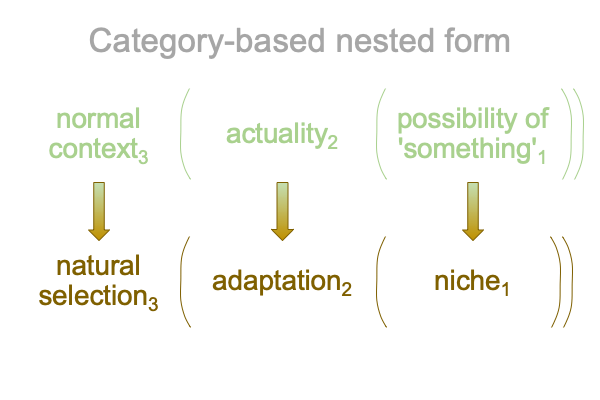 The normal context of natural selection3 brings the actuality of adaptation2 into relation with the potential of 'something'1, which biologists label "niche"1.