0001 Daniel Estulin holds a notable resume. He is a doctor of conceptual intelligence and a foreign policy advisor to sovereign states in Latin America and Eurasia. He has authored many books, and hosted a Spanish language TV show on RT (formerly, Russia Today). The subtitle of the book is "Tectonic Processes of Global Transformation".
This look is a teaser for a more extensive examination, Comments on Daniel Estulin's Book (2021) "2045 Global Projects At War", by Razie Mah, available at smashwords and other e-book venues.
0002 Estulin formulates the concept of global project and applies it to a number of civilizations, nations and international cabals. His approach is intuitive and relies on his considerable experience and knowledge. Estulin's book is not structured in a manner that the reader learns a particular technique. Consequently, the above-mentioned comments add value. Perhaps, there is a method to Estulin's approach.
0003 Certainly, the concept of global project is valuable, especially when applied, by Estulin, to the world in the present day. Estulin is so well informed that he exercises the concept without trouble. Does he want the rest of us to wield this tool without his years of experience, trials and reflection?
I don't know.
0003 All I know is that humans tend to think in the ways of purely relational structures, often without realizing that fact. So, I read Estulin's text with two purely relational structures in mind, the Greimas square and the category-based nested form.
I start with a Greimas square and focus on the key word of "capitalism". A quick introduction to the Greimas square may be found in the other blog for this month (at www.raziemah.com for January 2023).
0004 Here is the result.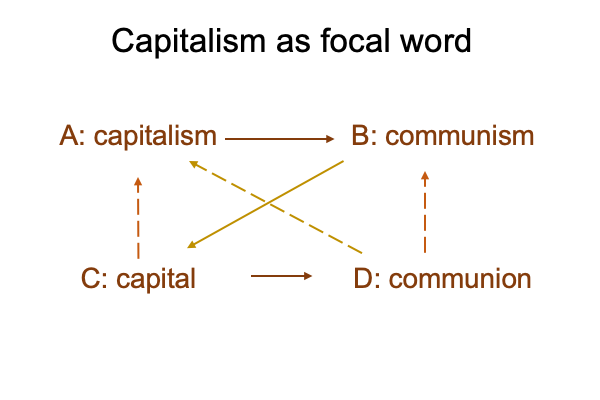 0005 The four elements are clarified by the following statements.
A is the focal term. A is also the social head. A goes with economics.
B contrasts with A. B is also the social body. B goes with politics.
C contradicts B and complements A.  C is capital.  Capital goes with information, intelligence and conspiracy system.  Anyone who gets an investment newsletter appreciates this.  The stuff of investment letters scale up when considering prices, markets and monetary policies.  C is what the social head fixates on.  C functions as a mind-independent being.  C is what the social head thinks about.
D contrasts with C, contradicts A and complements B.  D is communion.  Communion (D) is the object that brings us together.  Communion (D) is not a mind-independent being, even though it appears to be.  It (D) is mind-dependent, in the same way that a stomach and lungs are mind dependent.  We don't just want to eat or breath.  We want to eat and breathe well.  Communion (D) is aesthetic, while economics (A), politics (B) and conspiracy system (C) are calculating.