0012 Poetry, what is it worth?
Surely, it is valuable in the arts of seduction, inspiration and adornment.
But who needs these, when God is Love, Commitment and Awesomeness incarnate?
0013 The Italian humanists face a problem. How do they place poetry and the writings of classical Rome front and center?
The academics in the room have an easy answer, "First of all, get rid of logic in the curriculum."
0014 Ah, does that not sound like a small error?
Starting with Petrarch, Italian humanists alchemically place the actualities of Greek philosophy and Western history2 into the novel context of the liberal arts3, emerging from the potential of five disciplines1: grammar, rhetoric, poetry, history and ethics.
The result can be portrayed as follows, according to A Primer on the Category-Based Nested Form.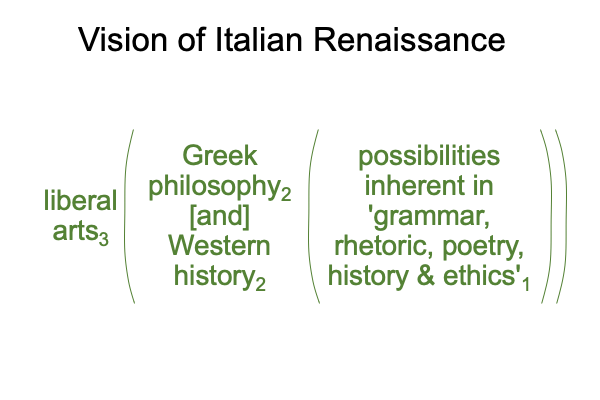 0015 The dyadic actuality of Greek philosophy [and] Western history2 is placed in an alchemic vessel3 alien to its original, natural and organic milieu1. Plutarch's liberal arts3 is a normal context that excludes Aristotle's realist philosophy3. The pentagram of grammar, rhetoric, poetry, history and ethics1, whose points operate independently and in combination, constitutes a digestive organ potentiating transformation.