0013 Here is the complete Marey square, once again.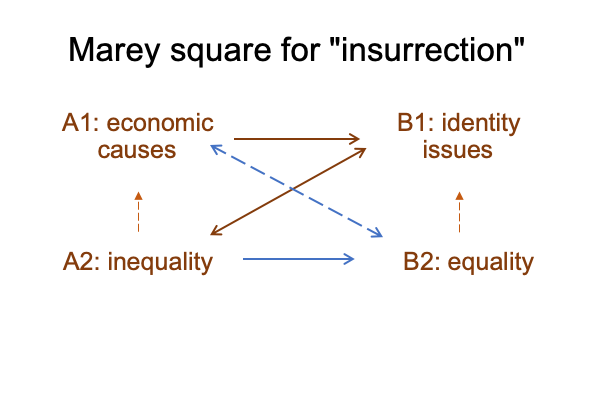 0014 Do I see a problem?
Modern economists advocate for federal policies to reduce income inequality (A2) as a way to keep the peace (A1).  In other words, inequality (A2) feeds into economic causation (A1).
Does the same pattern apply to the contrasting elements (B1 and B2)?
Should modern economists also address the contribution of identity?
Or does that responsibility rest with a different suite of experts?
You know, the one's who argue that "identity" is fully malleable, yet behave as if it is fixed.
0015 Does the proposed solution of reducing economic inequality (A2) create an unintended consequence of forcing equality (B2) onto identity (B1)?
Is there a word that describes forcing equality (B2) onto identity (B1)?
How about the term, "conformity".
If, identity cannot be fashioned out of the creative expression of experts, then identity is not something that readily changes. Identity is not so easily altered.
0016 What happens to the proposed solution?
Reducing economic inequality entails conformity, which explains government and private-public sector behaviors subsequent to the incident in Washington DC on January 6, 2021, the so-called "insurrection".
The US Congress passes legislation to crack down on "domestic terrorists", that is, people who do not conform. They also impeach, for a second time, a figurehead that serves as the "other", the one who does not conform. Onto this other, they project their own crimes.
Private-public sector companies purge their platforms of people who do not conform with their corporatist stance, where the federal government handles the problem of economic inequality. In doing so, they promote equality of identity for those remaining on their platforms. Those who remain are complicit in purging those who do not have identities worthy of equality. Of course, those who are unworthy of equality do not believe the experts.
0017 Marey's square identifies two experts. One drives the broadcast conversation, attributing social unrest (insurrection) to economic causes, particularly inequality. The other drives a hidden conversation, where favored identities conform to the narrative. In the latter case, experts are cultivated in order to chastise those who do not conform and to justify exclusion from public-private platforms.
0018 In short, Marey's brief article hones in on a serious entanglement, which cannot be discussed, binding a BG(il)L public narrative (A1) with a hidden agenda concerning identity (B1). Forced conformity (B1, B2) is as disturbing as economic inequality (A1, A2).