0009 Where does the individual fit into this category-based nested form?
The individual resides on a lower form. Looking up, "he" sees a relational dynamic within the social paradigm.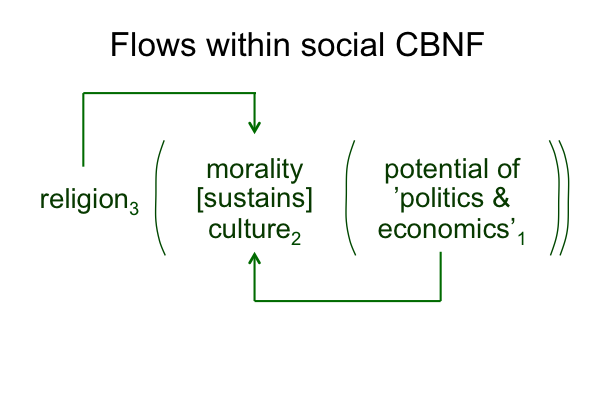 0010 The hierarchical flow in the traditional slogan becomes a double dynamic, where the normal context3 flows into one dyadic actuality2 and the potential1 rises into the other dyadic actuality2. The category-based nested form displays its own transcategorical flows. Religion3 motivates morality2. Politics and economics1 enlivens culture2.
What does this imply?
The traditional slogan depicts a flow down a hierarchy. This flow conveys an aura of determinism.In contrast, the corresponding category-based nested form presents two transcategorical flows. One flows "down" from normal context3 to actuality2. The other flows "up" from potential1 to actuality2. These flows convey a picture of dynamism.