0026 Here is another picture of the resulting intersection.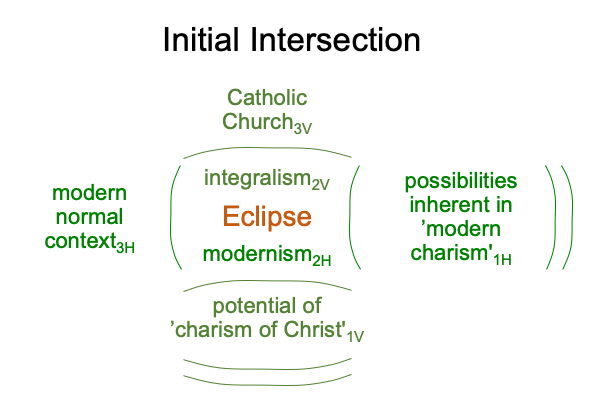 The intersection is introduced in the chapter on message in the masterwork, How To Define The Word "Religion".
0027 In section three, Vigano notes that the revolution of Vatican II coincides with the establishment of a New World Order.
Perhaps, this allows me to fill in the blanks with respect to the horizontal nested form in the interscope pictured above.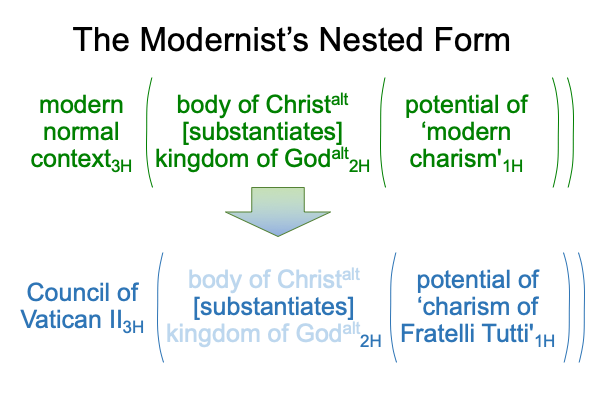 0028 Note how matter, the body of Christ2, starts to fade, when placed in the normal context of Vatican II3.
Does Vigano's claim intimate some type of transaction?
Of course, those in the Catholic hierarchy do not own the Church, anymore than an elected politician owns his or her office. Nevertheless, religious hierophants and secular politicians may "sell" what the do not own, that is, their office.
The operators behind Vatican II sell their offices by discounting the transcendent dimension of the Church and marketing, for the world to buy, its social dimension. According to Vigano, the Council's first error consists of a lack of transcendent perspective, a God's eye view, so to speak. The most recent fruit of this error is the encyclical Fratelli Tutti, extolling human brotherhood, ecumenism among all religions, unrestricted migration across borders and so on.
0029 Note how the form, the kingdom of God2, starts to fade above the potential of 'the charism of Fratelli Tutti'1.
Behold, the modernist's nested form begins to yield an alternate hylomorphe, in the theodrama following the Council of Vatican II3.
The charism expressed in Fratelli Tutti1 allows clarification of this alternate hylomorphe.
0030 Here is the modernist's new actuality.