0011 In April 2020, I posted a series of blogs about the Saturn-Pluto conjunction in Capricorn, with Jupiter co-present (but not in conjunction). This celestial event in January, 2020, marks the start of one of the most bizarre plagues of modern medical history. Even though the novel coronavirus from 2019, has a fatality rate of less than 5% for people over 75 years old (and for people with co-morbidities, including asthma), the responses of governments throughout the world has been amazing.
Rather than protecting old folks, health-care bureaucrats locked down entire populations.
0012 How did the crisis start?
The novel coronavirus initially spread after the City of Wuhan held a huge banquet commemorating the upcoming lunar New Year, the Year of the Rat. Already, the easily transmitted RNA-based virus had infected many. This was its opportunity. When Wuhan's residents returned to their native homes for the Lunar New Year, the disease spread throughout China. Also, the disease passed through international air terminals to the rest of the world.
0013 This mundane event coincides with the Saturn-Pluto conjunction. Capricorn is the sign of government and organization. Saturn is the planet of time (as in, 'your time is up' or 'your time has come'). Pluto is the sign of the underworld.
Is it any coincidence that health-care experts come out and declare this novel coronavirus to be a grave disease?
Here is a picture.
Figure 03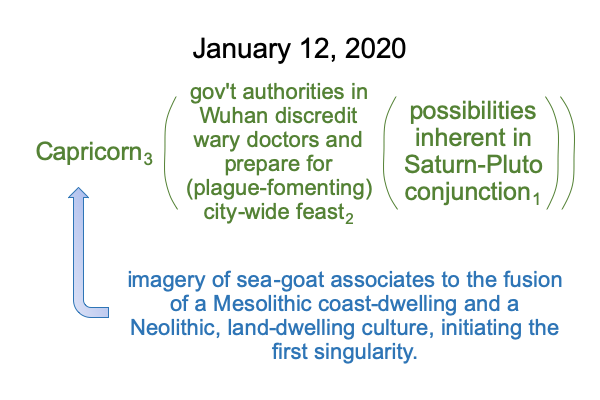 0014 As discussed in my blogs in April, 2020, the imagery of the sign of Capricorn touches base with the first singularity.Thus, the conjunction of Saturn and Pluto in Capricorn resonates with the dawn of astrology, as a specialization within our current living world.