0005 The normal context3 and the potential1 for astrology2 depend on another actuality2, consisting of what we see in the celestial spheres, the motions of the sun, moon, planets, constellations and other stars.
This gives rise to the astrologer's vision, where a reading of celestial events1b expresses the potential1b of celestial arrangements, transits and so on2a.
Figure 02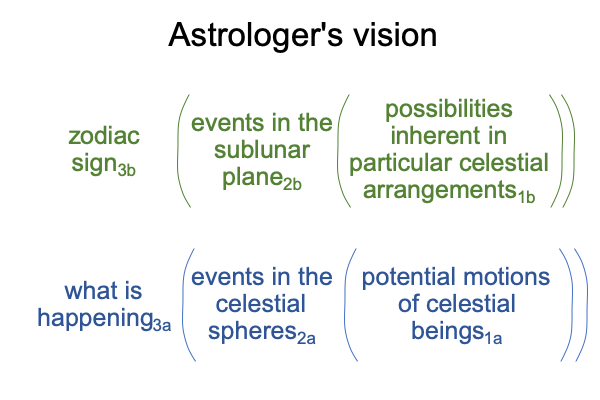 0007 Now, there are two actualities. On the content level, there are celestial arrangements. On the situation level, there are various civilizational events, including personal dramas.
There is no apparent material or instrumental causality connecting the two, even though the sun, the moon, and the planets have gravitational influence. The sun also determines space weather. Plus, the sun orbits the galactic center.
The tradition of astrology offers final and formal causes, cobbled together over time through correlations between planetary motions and mundane events.
0008 The discovery of planets beyond human sight contributes to modern astrology. An entirely new branch of astrology looks at historic events and trends in relation to the motions of the outer planets, Jupiter, Saturn, Uranus, Neptune, Pluto and now, Erin. This branch of astrology considers civilizations as beings.
0009 Conjunctions of Jupiter and Saturn, the outermost visible planets, occur in a every 20 years. One lifetime may see 4 conjunctions.
However, the pattern extends beyond one lifetime. The conjunctions of Jupiter and Saturn occur in one type of sign for around 200 years. The typology of signs is earth, air, fire and water. So, every 800 years, the cycle completes.
The last conjunction between Jupiter and Saturn occurred in an earth sign. The 2020 conjunction takes place in an air sign, Aquarius.
0010 The Jupiter-Saturn cycle of 800 years, belongs to both ancient and modern astrology.The recent Saturn-Pluto conjunction, in January of 2020, belongs to modern astrology.