0044 The development of the word, "concupiscence" (D'), from the originating emphatic, I-myself (A), produces technical definitions of words, that are at odds with traditional definitions. Cupid (B') starts by labeling the presence of self among other selves.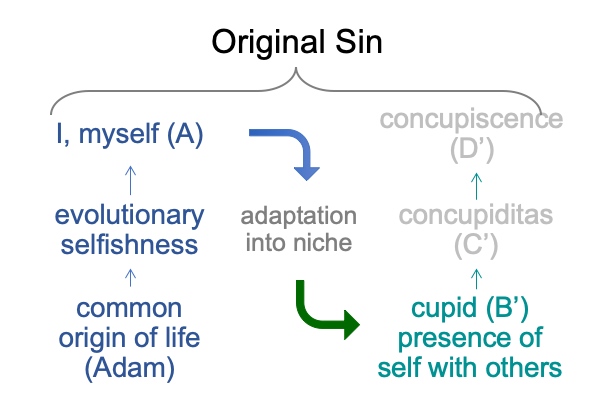 Cupid (B') associates to self (B). If self (B) labels the intensional awareness of an internal consolidation of various, situational I-myselves, then cupid (B') labels an extension of that awareness. This extension occurs, in the Lebenswelt that we evolved in, as individuals cooperate in social circles, the family (5), intimates (5), teams (15), bands (50), communities (150) and so on. So, the consolidation that produces the self (B') is motivated by a competition to perform as a self among other selves in various social circles.
That competition entails concupiditas (C'), the desire to perform as a self among other selves. Concupiditas (C') corresponds to selfish (C). Concupiditas (C') is an adaptation that satisfies the biological criteria of evolutionary selfishness and conforms to Domning's criteria for original selfishness, manifested in the emphatic, I-myself (A).
0045 Here is a picture.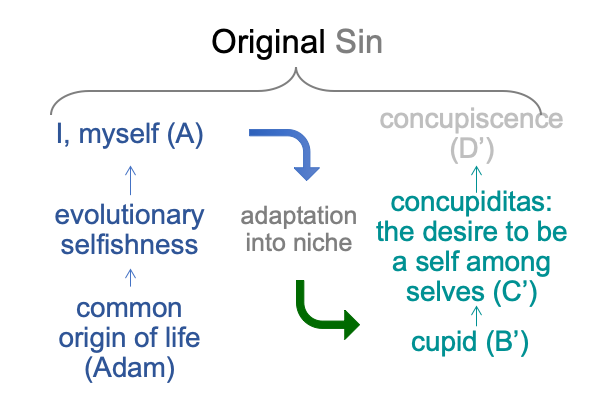 0046 Like cupid (B'), the technical term, concupiditas (C'), does not align with common parlance.
A contemporary example of a concupidic behavior (C') takes place in bars and houses around college campuses. Drinking games meld competition and cooperation. Each participant is a cupid (B'), competing to shoot an arrow into a keg of beer, in order to endear oneself to others in the drinking group.
One must compete in order to cooperate?
How twisted is that?
0047 Concupiditas (C') is situational. Concupiditas entails human choice. Concupiditas introduces rules to the game. Concupiditas is being with others, in particular situations, where performance is congruent with belonging.
The rule of the drinking game is simple. Drink as much beer as you can. This rule is given precedence over other rules, such as long-term cooperation necessitates that other selves are not injured. The drinking game entails risk. Concupiditas (C') entails a human choice about which game to play. The games belong to concupiscence (D'). The choice belongs to the person and concupiditas (C').
0048 Concupiscence (D') corresponds to selfishness (D). One must compete to cooperate. One must perform in every social circle that one belongs to. That performance entails risk. Sometimes one is born into a social circle (the family, band and community). Sometimes one must choose (intimates, team). Concupiscence (D') is the state of competing to cooperate. Each self desires to cooperate, because those who cooperate take the greater risks and enjoy the greater benefits. Each self desires to be among other selves. Each self has its own original selfishness. Every game and every social circle has rules, established by tradition.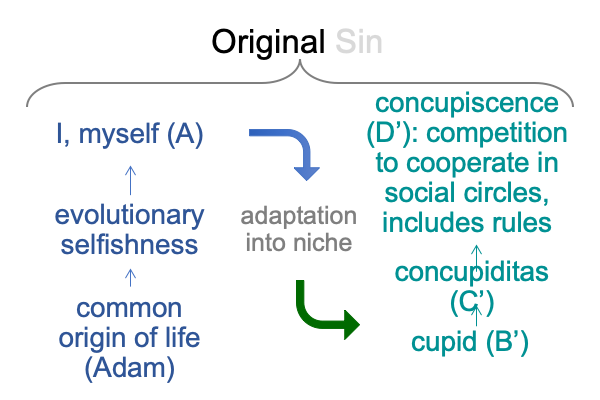 We compete to belong to and to flourish within social circles. We compete to cooperate.